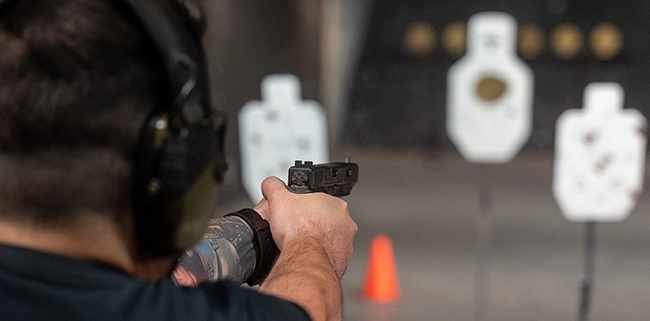 All Day Steel Shoot
There is nothing quite like the satisfying ping that you hear when shooting at steel targets. And our All Day Steel Shoot lets you shoot from open to close.
The XCAL Training Staff has created numerous steel plate scenarios that will allow you to train from individual lanes to running full Steel Shoot competition courses – as many times as you want! And the Instructors and Range Safety Officers will offer tips and pointers to help you improve your skills.
For this event, you can purchase an all-day pass that is good from open to close that gives you full access to the range. Shoot as long as you want, leave to grab a bite to eat at the Midway Cafe (or off-site), run some errands, take a break, then come back to the range for another fun round.
Firearm rentals are available at the Range Check-in Counter. Ammunition and protective gear are available in the XCAL Store. Virginia law requires a participant to be either a U.S. Citizen with a valid government photo ID (Driver's License, Real ID or U.S. Passport); a naturalized citizen with a valid government photo ID; or a Permanent U.S. Resident with a valid government photo ID.
Prerequisite: None
Gear Required: Pistol or Carbine (rentals are available), Eye and Hearing protection
Ammunition Required: FRANGIBLE AMMUNITION ONLY (all ammunition will be verified)
Dress: Closed-toed shoes; comfortable, appropriate clothing
Cost per Person:
Members: $100
Non-Members: $120
Tickets can be purchased at the Range Check-in Counter on the day of the event.