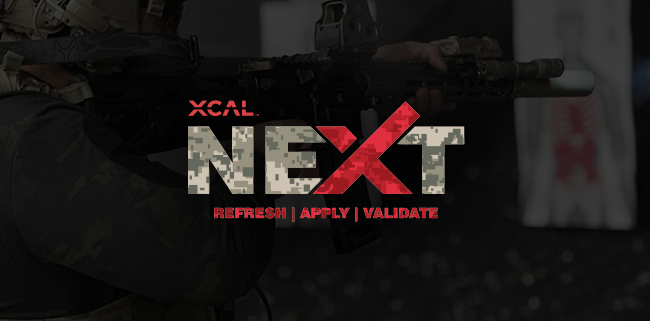 NeXt Training
XCAL's NeXt Evolution in Training (NeXt) sustainment course is designed for advanced shooters who want to sharpen their edge. Students will utilize both rifle and pistol during this block of instruction. This course is dynamic and will be tailored to build upon and push the skills of the group as a collective. You can expect to refine your marksmanship skills, shoot while moving, transition to pistol, work principles of CQB, and more.
Each NeXt course will vary by design; the course of fire and skill set to be trained will be dictated by the instructor. This course is not designed for new or beginning shooters; the expectation is that a moderate to high skill level with both rifle and pistol have been attained. With that being said, this course will always stress the basics.
Plate carrier and helmet recommended, but not required.
Ammunition and protective gear are available in the XCAL Store.
Virginia law requires a participant to be either a U.S. Citizen with a valid government photo ID (Driver's License, Real ID or U.S. Passport); a naturalized citizen with a valid government photo ID; or a Permanent U.S. Resident with a valid government photo ID.
COURSE REQUIREMENTS 
Gear Required:

Zeroed Carbine with sling
Pistol with holster
Eye and hearing protection; rentals available
Gun Belt w/ magazine pouch for both platforms (minimum 2 pistol, 1 rifle pouch on gun belt)
Optional dump pouch
At least three (3) magazines for each platform

Ammunition Required: 180 rounds Ball for rifle, 180 rounds for pistol or Frangible NO Green Tip, Tracer or Incendiary
Recommended Gear: Plate Carrier, Helmet
Dress: Closed-toe shoes, comfortable clothes you can lay down in